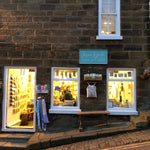 Well there it is, Christmas and New Year have been and gone and we can welcome in the new year of 2022!
The colder weather is truly setting in now and so because of this, we will only be opening our bricks & mortar shop on Weekends; 11am - 3pm through January and up to February half term. 
We will still be open online of course for all your gifting needs and please feel free to reach out should you have any queries or questions!
We wish you all the best for 2022 and we look forward to seeing you again soon!