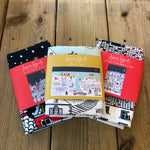 And with that, Summer has gone and we're already enjoying the slightly colder weather and darker evenings Autumn and Winter has in store for us!
From tomorrow, 1st November 2021, we will be amending our midweek opening times to 11am - 4pm, Monday to Friday.
We are still very much open through the winter season so please do pop in and see us when you come to visit Robin Hood's Bay!